Ken LaDeroute - Certified Mindset Coach and Meditation Teacher
Ken helps stressed-out creative entrepreneurs overcome overthinking and reset their mindset to a calm, clear, and focused mindset so they can make better decisions, do their best work, optimize emotional management, and live a simplified life without continually running past the finish line.
Ken is a certified professional mindset coach, meditation teacher, former pro musician and founder of Clarity Mind Institute.
Ken is a self-made creative entrepreneur, running profitable franchise businesses and commercial real estate, and teaching at the university level to inspire young minds to fulfill their highest potential. His life's work sits at the intersection of psychology, meditation, business and music. He seamlessly integrates these disparate disciplines into a powerful multi-dimensional whole.
He has impacted the lives of people around the world with his live stage appearances as a professional musician touring Canada and the US, 6 nights a week for 14 years. As a super creative, he utilizes his talent in music, as a mindfulness meditation teacher, astute businessman and expert coach to facilitate each client on their individual journey towards their highest potential and self-actualization.
In 1989, he was initiated by a direct disciple of Paramahansa Yogananda, into Kriya Yoga. Much insight has been gained through a deep and intense practice as an ardent meditator and teacher for over 34 years. In his personal life, Ken admits he is "blessed beyond words." Ken has managed to create an amazingly abundant life full of financial freedom, creative expression, heartfelt friends, spiritual practice and day-to-day adventures.
He explains that it was the "clarity of my intentions that helped me understand, allow and receive exactly what I had always hoped for in this life." He is comfortable being on stage and being a leader. His work is his fun and lives by his motto, "clarity through mindfulness." Ken is a Certified professional coach affiliated with the International Coaching Academy and the International Coaching Federation.
His expert ability to successfully coach clients from around the world has made him a popular coach and teacher at retreats in Europe, Asia as well as North America.
A Defining Moment: How Meditation Made Me What I Am Today
I was a sheltered kid with thick glasses from a small town 12 hours North of Toronto. Sensitive and different, I ate my lunch in my high school bathroom. By the time I was 16, I paced incessantly. I was hyperactive, moody, depressed and searching. I escaped by teaching myself to play the guitar.
At 17, I left home on a Greyhound bus with only a suitcase and a guitar. I auditioned for a band that started my life on the road playing music six nights a week for 14 years.
A defining moment in my life took place in 1975. A few months before, I had joined my first band and we were on the first leg of an extensive Western Canadian tour. We pulled into a beat-up motel for a night's rest from the road.
In the middle of the night, I woke up in a cold sweat, shaking. All I kept saying to myself is, "What have I done? Why did I leave the comfort of my family and friends for the vagabond life of a musician?"
I felt alone and scared. I tried to use the tools my family and church gave me, so I prayed to God. Praying didn't really make me feel any better. I wanted to know why God wasn't making me feel less afraid.
The next day, I made a commitment to immerse myself in absolutely everything that would help me find a way to relieve my fears.
I started going to book stores for answers. I read books on mysticism, Judaism, Buddhism, Hinduism, western psychology and countless others. After reading about the practice of meditation, I decided to give it a try.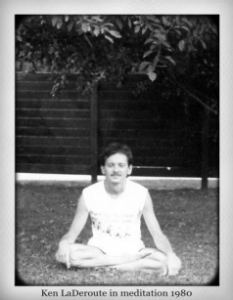 Meditation cleared away many of my limiting beliefs and feelings of unworthiness and low self-esteem. It awakened my creativity and inspiration. I slept better. Soon, my thinking processes became more coherent, and I became more confident. 
Mindfulness meditation helped me focus my attention. I began to realize that I could do anything I set my mind to and that I could face any challenge. It made me see that I'd never have to be lonely or afraid again.
After leaving the road and settling down, mindfulness meditation helped me become successful in business, real estate, audio engineering, song writing, teaching, public speaking and my 30-year successful relationship with my wife. The simple act of closing my eyes and emptying my mind completely transformed my life!
As a Certified Professional Mindset Coach, I help over-thinkers break through mental blocks that sabotage their progress and success.
I have since made a commitment to dedicate the rest of my professional life to helping clients develop to their full potential through my mindfulness meditation training, products and private consulting. Since then, I've worked with hundreds of private clients, spoken in front of groups, created Affirmation Music for Better Outcomes, binaural beat brain entrainment products and teach meditation at the Clarity Mind Institute.